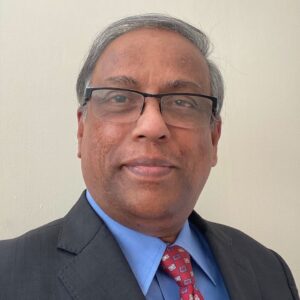 Principal – Innovation Lead
New York, NY
Krishnan is a global innovation and insurance executive with extensive leadership experience across products and countries. His expertise includes building and leading greenfield operations, first-ever business models, and insurance products targeted to new and underserved markets.
As AIG's Head of Microinsurance, Krishnan pioneered a unique business model as part of an industry consortium. With a focus on disruptive technology, he led the design and delivery of transformative insurance solutions to emerging customer segments, leveraging digital technology, satellite data and imagery, big data and analytics, artificial intelligence, and new business partnership models.
Krishnan was AIG's Vice President of Business Development, Global A&H, P&C insurance. Prior to those roles, Krishnan was Vice President of Global Agency P&C Operations where he delivered profitability in a 26 country, $5.5 billion operation with 1,250 frontline managers and 70,000 producers. Krishnan was a key founding member of an insurance start-up joint venture company — Tata AIG General Insurance Company. He was Senior Vice President and Head of Agency and Distribution at TATA AIG in Mumbai, India where he won an AIG Global Product Development Award for launching Cattle Insurance for the underserved and helped set up a profitable Rural Product vertical.
Before he joined AIG, Krishnan held multiple leadership positions at The New India Insurance Company, including holding roles as Managing Director and head of a subsidiary in West Africa for several years.
Krishnan has presented at industry conferences and been quoted as a microinsurance thought leader in the media, including The Washington Post. He has presented at Harvard University's SECON event, the UN-sponsored University of Maryland Climate Change Agricultural Insurance Forum, and the United Nations Forum on Climate Change mitigation.
Krishnan is a Chevening Gurukul Scholar, Globalization, at the London School of Economics and Political Science and a Fellow of the Insurance Institute of India. He has served as Visiting Faculty and Adjunct Professor at management institutes and colleges connected to Mumbai University, India, and Fourah Bay College, Sierra Leone, West Africa.
Krishnan earned his MBA, M.SC and BSc from Mumbai University.
Areas of Expertise
Innovation
Global management
Operational excellence and business growth
Sales leadership and distribution
New ventures
Microinsurance
Underserved markets
Sectors
Insurance – Property & Casualty, Accident & Health
Insurance – Microinsurance
Insurance – Distribution Channels and Sales
Technology – Disruptive Technology, Artificial Intelligence and InsurTechs