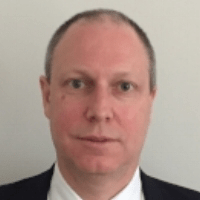 Consultant
London, England
James Binyon has more than 30 years experience with organizations at pivot points around the world.  He has worked in the education, insurance and financial sectors in both physical and internet-based business models.
James has wide experience in cost management, system implementation, establishing credibility for investors and maintaining effective control over organizations involved in restructuring.  He has extensive experience in risk and project management, ensuring that transformations achieve what is expected and that the process maintains the confidence and support of the corporate board.
Working out of Hong Kong, James took a central role within the international bank HSBC, managing the impact of the 1997 Asian credit crisis.  In addition, he was responsible for contingency planning and business issues associated with the handover of Hong Kong to China, while setting up risk and performance monitoring systems in that rapidly developing market.  Returning to the United Kingdom (UK) James headed the finance, risk and compliance functions in the team, which restored growth and increased profitability threefold in First Direct, a major internet and telephone bank in the UK.
James moved to the United States (US) to act as HSBC's senior finance executive during its acquisition of Household International, a major North American subprime lender.  James led a financial restatement following the acquisition, installed control systems to remedy a 'fundamental weakness' SOX rating and acted as Chief Accountant as the company managed through the credit crisis of 2007/8, resized and restructured the business to reflect the new realities of this sector.
Moving to the education sector, James worked on improving risk controls mechanisms and refocusing resources for Kaplan, a major for-profit educator.  He moved to Puerto Rico (PR) where he restructured EduK, the largest PR for-profit educator, which owns National University College and Instituto de Banco.  Faced with a troubled economy and a migration of students to the US, James led the company during this period of transition, attracted new financing, ensured that resources were allocated to areas of growth and left the company financially secure with the opportunity to grow in the future.
Returning to Chicago, James moved into consulting and worked on a real estate acquisition for the not-for-profit lender IFF and on the restructuring of the Foundation for Chicago State University.
James has a Master of Arts degree in Law from Oxford University, England, is a UK qualified Chartered Accountant and a qualified member of the Association of Corporate Treasurers.
Areas of Expertise
Funding and Capital Raising
Systems Thinking and Process Improvement
Turnarounds
Sectors
Education
Financial Services
Property Management