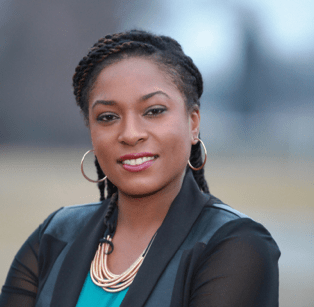 Terri Burch bridges analytical business thinking and creative design.  Her experience is based in three main areas: business design and innovation strategy; business risk management; and community and economic development.
Terri leads innovation and cultivates change in business and community through the design and facilitation of workshops and strategic planning sessions.  Terri helps teams develop creative ideas and strategies that promote collaboration across silos, connect better with key stakeholders and innovate for growth.
Terri is a Strategic Design M.B.A. fellow from Philadelphia University.  She is a certified multi-day planning session facilitator for community and urban planning.  Terri also has partnered with DesignThinkers Group USA as a Service Designer.
Terri has more than 13 years of experience advising non-profits, as well as small, medium and multi-national enterprises, across sectors, including manufacturing, financial services, healthcare and education.
Terri served in a client advisory role at Marsh, Inc as a licensed property and casualty producer, managing a book of clients in financial and professional liability programs.  She joined Ally Financial (formerly GMAC, Inc.) as a Senior Analyst to help establish the company's first corporate insurance department after they spun-off from General Motors.  Terri's role involved working with lines of business domestically and abroad to establish protocols to mitigate risk and procure corporate insurance programs.
In the community, Terri provides strategic and community education support for Re-Invent Detroit, an initiative focused on establishing Detroit as the leading SMART CITY in America. She also has been a member of the Design Management Institute and Detroit Young Professionals.
Areas of Expertise
Community Development and Planning
Design Thinking, Human-centered Design
Risk Management, Insurance, Business Continuity Planning
Strategic and Business Planning
Visual Design
Workshop Design and Facilitation
Sectors
Community-based and Economic Development
Education
Financial Services
Healthcare
Manufacturing
Start Ups