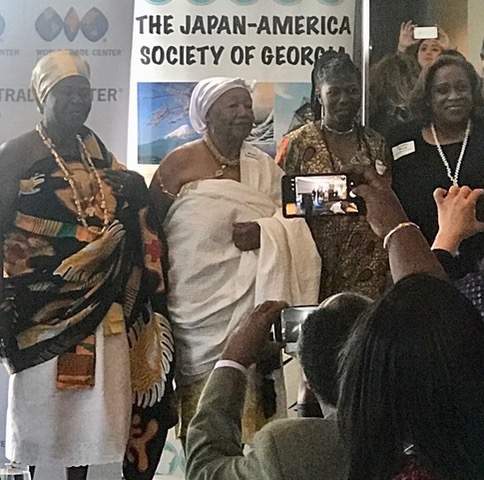 PIVOT GLOBAL CELEBRATES WOMEN'S HISTORY MONTH
Pivot Global Partners proudly sponsored the recent International Womens' Day luncheon presented by the Japan-America Society of Georgia, the World Trade Center Atlanta and the Ghana International Chamber of Commerce. The sponsorship was part of Pivot Global's celebration of Women's History Month. It also is part of Pivot Global's continuing support of women's business, education and leadership initiatives, including the National Women's History Museum in Washington, D.C. at the national level and high school and young professional mentoring at the local level.
Queen Mother Nana Asantewaa Twumauh II of Ghana (left) and Queen Mother Nana Brago Asantewah (second from left) shared insights about, and examples of, the prominence of women in economic development and society in Ghana. They also discussed Ghanaian trade and investment opportunities with other countries.
Matilda Arhin (second from right), President of the Ghana International Chamber of Commerce, highlighted Ghanaian development and enterprise.
Yutaka Nakamura, Deputy Consul General at the Consulate General of Japan and former Deputy Head of Mission in Ghana and Uganda, acknowledged the strong, multi-faceted role of women in Ghana, discussed his service in Africa and spoke about Japan's diplomatic outreach and economic ties in African and beyond.
Cynthia Hardy Young (right), Pivot Global CEO & Founder, welcomed the Queen Mothers and Deputy Consul General Nakamura.