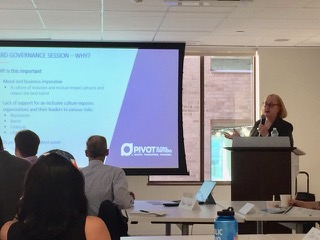 BOARD GOVERNANCE IN THE "ME TOO" ERA
PIVOT GLOBAL COLLABORATES TO DELIVER "BOARD GOVERNANCE IN THE 'ME TOO' ERA" SEMINAR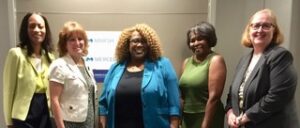 From left to right:  Charmaine Davis, SVP at Marsh McLennan USA; Daniele Livermon, SVP at Marsh; Cynthia Hardy Young, CEO & Founder at Pivot Global Partners; Maria Foxhall, Chief Revenue Officer at Pivot Global; and Virginia Hepner, Board Governance and Finance Professional
We were delighted to team up with Marsh USA and board governance and finance professional, Virginia Hepner, to present a dynamic, interactive seminar in Washington, DC on "Board Governance in the 'Me Too' Era."
With focus on prevention and detection, we led dialogue around why it's important for a board to address sexual harassment and how to address it.
Highlights included sharing recent data on "Me Too" claims, public company board gender diversity, and nonprofit sector challenges.
According to presenter Virginia Hepner, "When sexual harassment policies aren't implemented or are ignored, 'Me Too' issues arise.  That's why organizations must address prevention and detection of sexual harassment in the workplace to mitigate risk and adverse impact to their enterprises."
Hepner explained that board efforts to prevent and detect sexual harassment are critical because:
It's a moral and business imperative
A culture of inclusion and mutual respect attracts and retains the best talent
Lack of support for an inclusive culture exposes organizations and their leaders to reputation, brand, financial, and litigation risks; and
It protects an organization's greatest asset — its talent
Pivot Global helps clients create and manage change solutions.  For boards, Pivot Global audits and ensures governance is in place around key issues like sexual harassment and culture.  Marsh USA provides risk management guidance to its clients around a variety of emerging trends, including those affecting boards.
Contact us at https://pivotglobal.com/contact/ or 888 526 6251 to explore how we can work with you and your board.